11,875 reviews
Free Fabric Samples
Low International Shipping Rates
Over 250,000 Metres In-Stock
Clearance Fabric SALE - Shop Here
Just Fabrics Supporting Local Homelessness Charity, Emmaus
Here at Just Fabrics our local community is important to us, which is why we're proud to continually support our charity partner, Emmaus.
Emmaus is a homelessness charity with a difference. It doesn't just provide people with a bed for the night, it offers a home, meaningful work and a sense of belonging. The remarkable charity supports people to work their way out of homelessness, providing work, training, support and a stable home for as long as someone needs.
Helping people rebuild their lives after homelessness
Homelessness is a matter close to our hearts here at Just Fabrics, and the hard work and dedication of the charity to not only provide people with a safe home, but also provide meaningful work in a community setting is commendable.
We're proud to have raised £7,500 for Emmaus during our partnership so far, and we look forward to continue to support the charity in the future.
In September 2020 we held our first two-day chairty sale, raising £3,500 for Emmaus.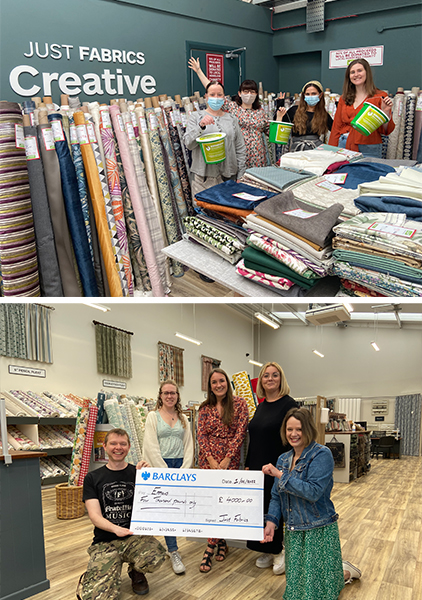 Working together to end homelessness
Following on from this popular sale, we held a second charity clearance event in March 2022, donating half of the proceeds again to the local homeless charity Emmaus Gloucestershire, raising an amazing £4,000. Customers were able to again bag huge discounts on fabric roll ends, remnants, craft bags, homewares and curtain poles.
The money raised will support the fantastic work Emmaus do in and around Gloucestershire.
Thanking the team at Just Fabrics for their generosity, Chief Executive at Emmaus Gloucestershire, Joe Feeley, said:
"We're delighted that Just Fabrics has chosen to support Emmaus Gloucestershire again. The proceeds raised will go towards providing safe accommodation and support for people who need it the most. A huge thanks to the team at Just Fabrics for going above and beyond to support our charity. We hope that customers enjoy the sale and pick up some good bargains!"