14,126 reviews
Over 1 Million Orders Fulfilled
Free Fabric Samples
Low International Shipping Rates
Black Friday Sale Ends -
2023-12-01

Curtains, Pelmets, Valances, Swags & Tails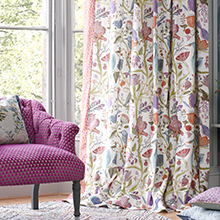 You can order bespoke curtains with heading styles including pencil pleat, pinch pleat/french pleat, goblet/tulip, stand up, pocket pleat, eyelets or tab tops through our website. All finished to the highest standard, lined, interlined or blackout.
Through our showrooms we can also offer pelmets to any style or shape, from small flat pelmets to dress roman blinds, to huge shaped and trimmed pelmets to dress georgian windows. The same applies to valances and swags & tails in an array of different styles and finishes to choose from.
Alternatively call our customer service line to request a quote.